Bill Underriner Wins 2015 Live United Spirit Award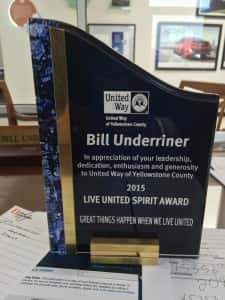 We're proud to announce to our Billings and Lockwood customers that Bill Underriner has won the 2015 Live United Spirit Award. This was awarded by the United Way of Yellowstone County (UWYC), a group that helps locals — from school-age children right up to senior citizens — receive the support they need to lead positive lives.
The United Way of Yellowstone County
The UWYC works tirelessly throughout the communities of Billings, Lockwood, and the surrounding areas to provide financial and strategic resources to improve people's lives. They address specific needs of community members, and then provide effective solutions in order to make positive changes.
Their overall aim is to engage and inspire communities to set goals for future action to produce positive results throughout the country, with current goals including:
Increasing graduation rates in Yellowstone County to 95% by 2025. The UWYC is putting strategies in place to help students in school and provide a support network for them to turn to.
Ensuring that all of the community's vulnerable senior citizens have access to food and support without having to leave their homes.
The 2015 Live United Spirit Award
Individuals and organizations need to be nominated in order to receive a 2015 Live United Spirit Award from the UWYC, with the following criteria needing to be met in each case:
Made an Impact in the Community
Thinks of Others Before Themselves
Willing to Provide Support for Others
Gives 110% to Their Cause
Creates Opportunities for Those in Need
Inspires Hope
The team evaluates nominees in terms of three central categories: Community Impact, Volunteer Engagement, and Philanthropic Engagement.
This year, it is Bill Underriner that has been singled out for mention. His Live United Spirit Award celebrates his "leadership, dedication, enthusiasm, and generosity to United Way of Yellowstone County."
Underriner Motors is Ready to Serve the Community
Underriner Motors regularly holds charitable events and supports worthy causes; every year, for example, we give away a vehicle to a family in need. All in all, we weren't surprised to hear that Bill Underriner was reached out to and celebrated for his tireless devotion to the local community. Contact us to learn more about what we're doing for the community, or to find your next vehicle!