Underriner Motors Helps a Family in Need With a Free Car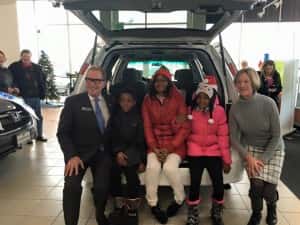 We're proud to let Billings and Laurel drivers hear about the heartwarming success of the Underriner Motors car giveaway. At Underriner Motors, we've been supporting local organizations since opening our doors in 1944, and our biannual car giveaway is just one example of that.
The Underriner Motors Car Giveaway
Thus far, we've provided four vehicles for Billings-area drivers in need of a helping hand. Twice a year, we fix up a car and then donate it. As noted by Bill Underriner himself, "It's an employee-driven thing. They've really embraced it. They donate all their time and make sure the car is in top condition."
We sure do. This time, we decided to give away a 2004 Honda Odyssey. One of the most sought-after minivans on the market, we estimated its value at around $8,000.
Our Latest Car Giveaway
The team here at Underriner Motors went through a list of 23 families nominated by Billings social service agencies before finally selecting Cleshawn Henry and her children for our latest car giveaway. They were nominated by The HUB drop-in center and Friendship House, and we also provided Christmas gifts for children Kayla and Giovani, who Friendship House Director the Rev. Matt Lundgren says are regular after-school attendees.
"I am just overjoyed, happy and excited," said Cleshawn. "Since we came to Billings, I have been trying to find my way. We are sure glad we came to Billings." We were only too happy to help pave the way. As noted by Blake Underriner, "Anytime you can give back to people who are having a hard time or are down on their luck, that really is something we can all participate in."
Underriner Motors is Proud to Support the Community
We're already looking forward to the next Underriner Motors car giveaway, so be sure to keep your eyes and ears open for more news. If you require any more information about our community involvement or our services, contact us today.